Save the Date…….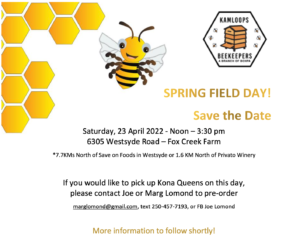 Kamloops Beekeeping Club Spring Field Day
Saturday, April 23, 2022
12:00 – 3:30
6305 Westsyde Road – Fox Creek Farm
(7.7 kms North of Save On More Grocery Store in Westsyde, OR 1.6 km North of Privato Winery)
If you would like to pick up Kona Queens on this day, please contact Joe or Marg Lomond to pre-order your Queen(s).
marglomond@gmail.com, text 250-457-7193, or FB Joe Lomond

More information to follow shortly!