July 2020 .... And while you're Harvesting
Following up on our commitments to keep the bees healthy and to keep the beekeepers together, this is another instalment in our  "Beekeeping In A Pandemic" program! This message includes photos and tips to follow up on the Honey Harvest newsletter, and a few tips from our favourite inspector, Diane Dunaway, about staying ahead of the mites. Thanks to Lawrence Bergstrand and Diane Dunaway for this info! It will be posted to the website and to Facebook, too.
 This group of photos previews some of the sights and cautions of bringing in your crop.
Honey super removed from hive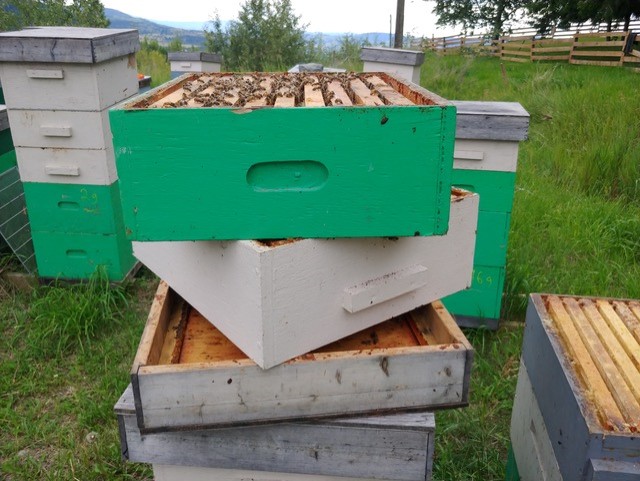 Frame with Honey and Brood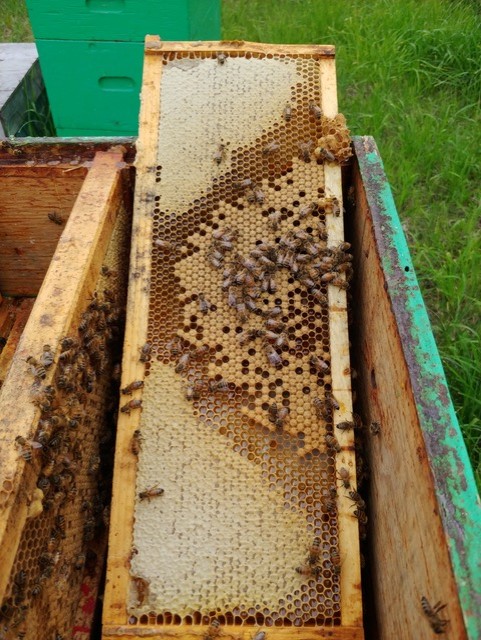 Honey Frame with Bees Brushed off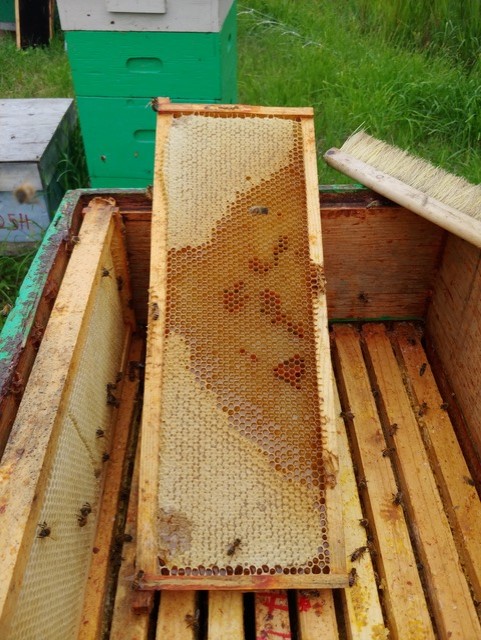 New Honey Super Ready to be added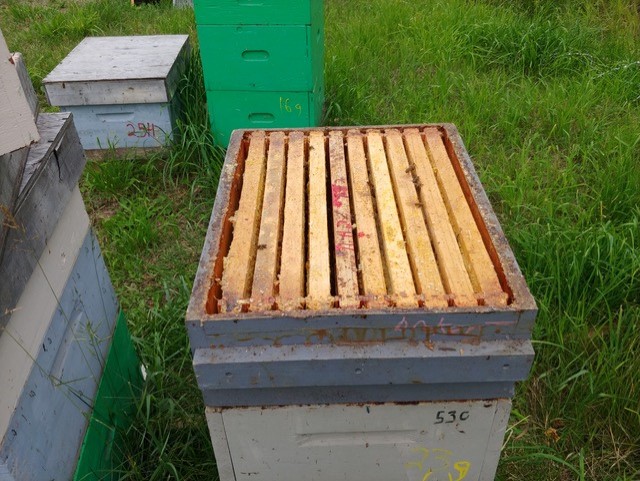 Hello Fellow Beekeepers,
Your club misses you! Until we meet again, here are a few timely suggestions for managing your bees and staying informed.
From, Diane Dunaway
Regional Apiary Inspector
University of Guelph's YouTube station is at the top of the list. https://www.youtube.com/channel/UC3mjpM6Av4bxbxps_Gh5YPw
The University of Minnesota's Bee Squad also has quality online resources, here's a link to their varroa mite icing sugar shake demonstration: https://www.youtube.com/watch?v=_1UTseN3Em8
With the wet summer we're experiencing and the resulting swarm activity we can expect that there will be a few queen quality issues, and losses if beekeepers do not monitor brood patterns and intervene when indicated. Poor mating weather will affect queen fecundity and longevity. Late requeenings with stock from reputable queen breeders are encouraged. Time is needed for setting up the all important winter bees for success, waiting until September of October is too late.
There is also a window now to encourage August varroa mite monitoring. And given how many backyard beekeepers we have in the Kamloops area, it is highly encouraged that folks coordinate treatment timing with neighbouring apiaries to help mitigate re-infestation. Consider our own informal "Mite-A-Thon" fashioned after the Pollinator Partnership initiative…https://www.pollinator.org/miteathon
A Couple of Videos to Help you on your way
A honey super consists of a box in which 8–10 frames are hung. Western honeybees collect nectar and store the processed nectar in honeycomb, which they build on the frames. When the honeycomb is full, the bees will reduce the moisture content of the honey to 17-18% moisture before capping the comb with beeswax. Watch as Murray explains how to add a honey super to your hives.
Watch as Murray explains how to use a  Quebec style escape board.
The Quebec Bee Escape Board will get approximately 95% of the bees out of the honey super overnight. It's a passive way to separate the bees from your honey supers.